Are you ready to dramatically boost sales in your Amazon FBA business?  If so, it's time you invested in a comprehensive Amazon seller tool.  In this Viral Launch review, we discuss how the Viral Launch application works and if it is right for your business.  We also include a Viral Launch coupon code if you are ready to sign up with the software!
If you're reading this article, you're aware that building a profitable FBA business is not a walk in the park. But thanks to technology and all-in-one seller tools, there are solutions that will help you manage and grow your business.  Viral Launch is one of the solutions that has helped thousands of sellers dramatically increase the profit in their FBA business.  But how does Viral Launch stack up to its competitors like Helium 10, Sellics and Jungle Scout? 
We'll go through a detailed review of Viral Launch so that you can make the final decision.  We've seen many early Amazon FBA sellers quickly become 6 and 7 figure sellers with the help of Viral-Launch.
What is Viral Launch?
Founded in 2014 by Casey Gauss, Viral Launch is an Amazon all-in-one seller platform designed to assist private-label and large brands build a profitable business on Amazon.  Gauss founded the company at the ripe age of 21 from his hometown of Indianapolis.
The platform enables users to find profitable products with its proprietary sales estimates, trends and metrics.  It also allows Amazon FBA sellers to reverse-engineer their competitors through reverse ASIN functionality and competitor tracking. 
Viral Launch has both a main web application and a Chrome Extension called Market Intelligence that is included with every plan.  Using the web and Viral Launch extension in conjunction, is what we at FBA Global and Viral Launch recommend for the greatest platform performance and effectiveness. 

Key Features
Many seller tools are designed only for the US marketplace.   An added feature of Viral Launch is that it is available in 12 Amazon marketplaces.  These marketplaces include: United States, United Kingdom, Germany, Canada, Mexico, Spain, France, Italy, Japan, China, India, Brazil. That number is sure to grow as Amazon expands quickly in 2021.  That said, Viral Launch does not offer every single tool for each of these secondary marketplaces.
Viral Launch is a dynamic platform that comes in both a web application and a Chrome Extension for your browser. The Viral Launch Chrome Extension is a good place to begin your use of the tool, as it's the simplest and lightest of the two.  Simply download the tool from Chrome's Web Store, integrate it with your Google Chrome browser to begin finding killer products!  
As soon as you log in, the home page features an interactive dashboard that is quite user friendly. It shows overall data graphics for your daily sales and profit numbers, as well as new announcements and featured content from Viral Launch.
There are 8 key features of Viral Launch. These include:
Product Discovery
Market Intelligence
Competitor Intelligence
Keyword Research
Listing Builder
Listing Analyzer
Keyword Manager
Kinetic PPC
The first four tools are for finding, sourcing and getting a product to the point of listing creation. It doesn't matter if you are a pro or an amateur at Amazon FBA, each of these tools is easy to use.
Viral Launch also has a Chrome Extension, called Market Intelligence.  The Viral Launch Chrome Extension is included with each seller plan offered.
Product Discovery
Your journey towards a money-making business starts with the successful search for the most potent product you can locate.  The Viral Launch App comes with a built-in Product Discovery feature to help expedite this process.
This viral software launch tool helps you in selecting productive money-making products that you can source and begin selling in weeks.  The search tab allows you to search for desired products and even product ideas. The tool also provides you with a tailored product keyword list and brands to select. 
When researching a specific product, Viral Launch's Product Discovery tool will show:
Best Sellers Rank
Monthly Sales
Monthly Revue
Average Price
Reviews
Sellers
The Product Discovery tool also contains your Pinned ideas that were previously viewed and saved.  The Product Discovery tool can be beneficial in the following ways:
Customized results
Faster research option available
Smarter sources accompanied
Improved data-based accuracy results.
The fastest way to search for product opportunities.
This tool's integration with the Market Intelligence (market research) and Keyword Research tools allow you take a product idea and follow it all the way to a launch strategy.
Market Intelligence
Never underestimate the power of market research to help stabilize your business. An uneducated sourcing decision can lead to months of wasted time and thousands of dollars down the drain.
The Market Intelligence tool provides you the information you need to find a gold mine in the abundant world of Amazon.  Type in your product and you will immediately see a star rating based on 1 to 5.  It also gives you graphs of competitor data and market trends.
Market Intelligence enables you to keep tabs on the status of any product in the market, helping to validate the choice of your product idea. Market Intelligence provides valuable information regarding product proposal scores, market trends, consumers' needs and preferences and sales estimates  This information will assist you in making smart Amazon FBA selling decisions built for the long-term.
Keyword Research
Keyword Research helps you determine what keywords to target for your Amazon SEO and PPC campaigns. Use this tool to enter your product's main keyword.  For each keyword that is determined to be relevant to your product's market, Viral Launch provides the following:
Priority Score: Displays which words are most important to your product.
Relevancy Score: 0 to 1000 indicating how relevant the keyword is to your search term based on importance to your product.
Exact search volume: Based solely on Amazon data showing average monthly searches.
Broad search volume: Estimate for how many phrases in the term's broad match are searched each month.
Opportunity score: Rating from 0 to 1000 showing how many other sellers are using the selected phrase in their listing.  The higher the score, the lower number of competitors who are using the term in their own listing.
Search Trend: Detailed graph with both exact and broad search term history.
Suggested CPC Bid: Shows range and suggested bids. This is helpful for locating low-cost keywords to target in your PPC campaigns.
Dominant Categories: Shows categories where the keyword is found most often.
You can filter your results to only include the category you are researching.  You can choose to download the terms via a CSV file, or simply copy them to your clipboard.  
Keyword results include a massive Reverse Market Lookup.  Think of a Reverse ASIN lookup except bigger and better.  Whereas a Reverse ASIN finds keywords for one competitor, the Reverse Market lookup finds the most comprehensive list of keywords across all of your competitors.  This ensures you don't miss any crucial keywords for your product.
And speaking of which, make sure to pay keen attention to the Opportunity score column of your keywords. This is where you're able to gauge the competition levels across various market niches, based on the specific values awarded by this tool.
To provide accurate results, Viral Launch's AI system considers parameters like search volume, plus the corresponding number of listings for each targeted key word. Then, in the end, you get to gauge the relative opportunities based on their respective system scores, which should fall anywhere between 0 and 1,000.
Keyword Research does not end there, however. Apart from organic terms, the Keyword Research tool is capable of diving deep into PPC keywords. You can take advantage of this to evaluate the keywords your competitors have been using on their ads, in addition to their accompanying sponsored advertisement bid price.
A cool feature of Keyword Research is that it will automatically sync with your subscriptions to Product Discover and Market Intelligence.  This will allow you to find high-demand markets with low sales.
Competitor Research
As the name suggests, this tool identifies your competitors and researches their place in the market. You only need to enter ASIN to get a comprehensive list of top-performing and under-utilized keywords.  This tool gives sellers the ability to analyze and track their indexation, organic keyword rank, sponsored ad rank and many more!
Using this tool can give you competitive advantages.  If you are strategic, use the tool to take keywords that are performing well for competitors and place them into your listing.  Capitalize on market gap opportunities by finding highly relevant keywords that your competitors aren't ranking for.
You can also set up alerts to be notified when competitor listings go through changes, such as reviews, sales, ranking, price, placement of ads and more.  The full list of Viral Launch's Competitor Research features include the following:
Automated Keyword Research
Competitor Seller Detection Keyword Search Volumes (Exact & Broad)
Suggested Amazon CPC Bid
Index Checker
Organic Keyword Rank Tracker
Sponsored Rank Tracker
Keyword Alerts
Keyword Tracking (refreshed hourly)
In-Depth Product Analysis
Product Comparison
Sales, Price, and Reviews
Product Alerts
Listing Builder
Listing Builder helps streamline the listing creation process and allows you to craft fully optimized listings for Amazon SEO in one process. It makes sure you never miss a keyword that has the potential to increase your visibility to your targeted customers. There are two sub-tabs in this feature: the History tab and the Builder tab.
While building your listing, the tool has a scoring feature so you can keep track of how many times you've used your keywords.  It also displays helpful scoring metrics such as:
Listing Optimization Score
Interactive Keyword Bank
Keyword Metrics
Listing Analyzer
Do you know how crucial it is to have a thorough understanding of your keywords' strength to have long-term success in the FBA Amazon business? This is exactly what the Listing Analyzer feature of the Viral Launch App accomplishes for you. It helps you analyze where your product stands in the competition. Moreover, it works as an advisor to help you find the best keywords for your product optimization.  Listing Analyzer is set up with three main components:
Automated Keyword Discovery‍
This feature help you effortlessly locate your most important key words and discover profitable opportunities that you're currently missing.  The proprietary ARCS™ technology (ASIN Relevance and Conformity Search) uses up to 100,000 key words to determine the ASIN's most important key words and with no human intervention.
 ✓ Master Reverse ASIN Lookup
✓ Latent Semantic Indexing (LSI)
✓ Amazon Source Data
✓ Actionable Suggestions
Competitive Analysis‍
Understand how your products stack up to with the competition.  Compare prices, revenue, sales, and reviews with the top sellers and view actionable suggestions to immediately increase visibility and sales. 
✓ Typical Competitor Statistics
✓ Cost Comparison
✓ Monthly Sales Comparison
✓ Review Evaluation
Content Evaluation‍
This tool enables you to compare your listing's content to your top competitors to know how your product matches up.  Receive a detailed list of tangible solutions you can implement to begin improving conversions and sales. 
✓ Listing Optimization Score
✓ Photo Set Analysis✓ Search Volume Measurement
✓ Character Count Insights‍
Keyword Manager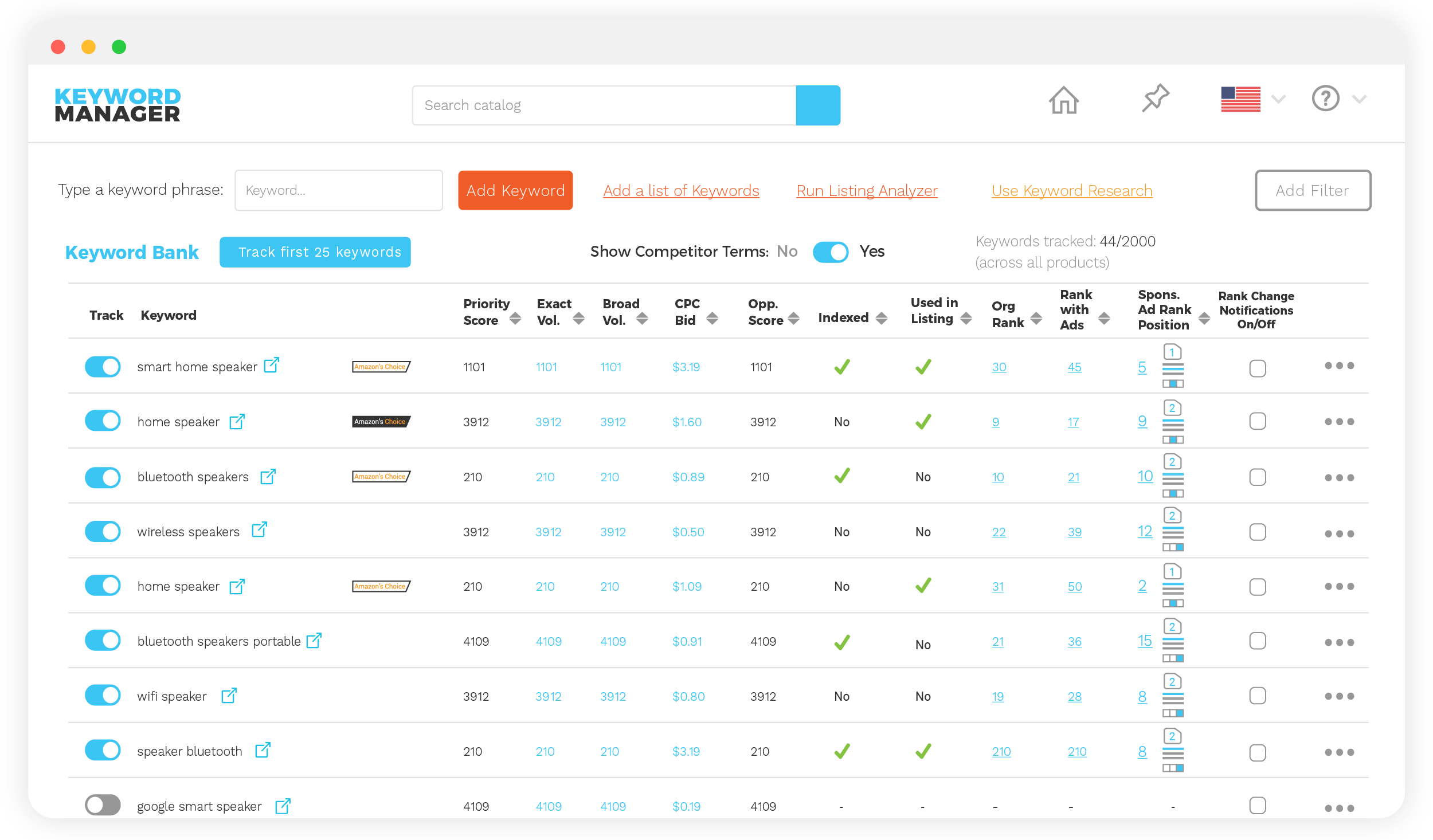 Keyword Manager provide a comprehensive dashboard of keyword data for each of your products. Keep a record of and track the most important keywords in an organized way with the help of this feature. The keyword data provided by this tool is as comprehensive as any other tool in the industry. This feature offers powerful features such as rank tracker, index checker, badge notification, sponsored ad rank, search volume and position indicators to provide insight into your keywords.
Kinetic PPC
The newest Viral Launch tool is Kinetic PPC. This tool allows for Amazon PPC automation.
Viral Launch really got this tool right.  Kinetic PPC allows you to stay in control by automatically making changes to your PPC campaigns.  These changes are based on either manual input of parameters or Viral Launch premade rules.  The adjustments to bid price, pausing/creating keyword targets and ad group type help keep your PPC in line without any manual interaction.  Highlights of Kinetic PPC are:
Select which recurring actions you want the tool to perform to keep your ads profitable.
Tweak the templates or create your own rules, so you know exactly what's happening.
Let the rules run automatically or manually approve each action.  You're in control.
FBA Global recommends the "form template" for more advanced sellers who have experience creating and managing their PPC campaigns.  It allows sellers to create their own rules to ensure the ads' profitability.  The premade rules are great if you don't quite know where to begin and are trying to plow through market intelligence and loads of Amazon data.
This tool also has a reporting function that shows how much each product is performing for the keywords, campaigns, and other search items.  
Split Testing
Another of Viral Launch's new features is the "Listing Dojo" split tester. Listing Dojo is an intuitive Amazon listing split testing platform allowing you to test different elements of your listing to help optimize for sessions, sales, and/or profit. You can test up to seven variants of each of your listing's cost, title, images, and description. Viral Launch will report how each tested variation improves/decreases clicks, conversions, units arranged, gross revenue and net earnings.
In summary, Listing Dojo allows you to learn how to improve your listing's profitability requiring no work after initial setup on your part. It's a no brainer!
Viral Launch Chrome Extension – Market Intelligence
Viral Launch's Chrome Extension is one of the best on the market. This extension integrates well with the Amazon catalog and gives immediate insights into market, listings and competition for the search you are displaying.
This makes it effortless to extract data from Viral Launch while surfing Amazon, meaning no more shifting back and forth between tabs and wasting valuable time.
There are additional Chrome Extensions that do similar things on the market, however, that is one of our favorites and only provides what you want to understand immediately with no filler or nonsense.
Training & Resources
In addition to being a comprehensive Amazon software tool, Viral Launch provides a free course on how to sell on Amazon and how to design PPC so that the every-day Amazon seller can become an expert. 
Viral Launch's step-by-step course called How to Sell on Amazon is open for enrollment for anyone interested in getting started on Amazon.  This comprehensive PPC course is structured around the Viral Launch application.  If you're going to attend this course, make sure you are using the Viral Launch service side-by-side.
Viral Launch also provides E-Books and free tools such as the Amazon FBA profit calculator, demonstrating that it is truly a comprehensive solution for all Amazon FBA seller problems.
Viral Launch Pricing
Viral Launch offers three main subscription plans: Essentials, Pro and Brand Builder. 
Monthly Pricing
Annual Pricing
See the differences in plan features here:
Free Trial
Viral Launch offers a no-risk 14-day Free Trial.
Viral Launch Coupon Code
Enter Code FBAGLOBAL for 15% Off FOR LIFE
Use the code FBAGLOBAL to receive 15% off your Viral Launch subscription. This applies to both monthly and annual subscriptions and is an amazing offer from Viral Launch.
Summary & Review Score
While Viral Launch is, at its core, a research and launch service, the current tool suite comes with every component needed for building an Amazon FBA business. The entire system is streamlined accordingly, and includes a comprehensive array of tools, fully incorporated. All of the tools work together toward collective goals.
Compared with its competition, Viral Launch's Product Discovery is the most outstanding in the market. This is an area that Viral Launch has managed to perfect, and it significantly outperforms the intelligence solutions competition.
Everything about Vital Launch is well designed and operates smoothly.   The Chrome Extension tool is very reliable when it comes to product research and finding new opportunities. As you can see in the graphic below, Viral Launch boosts more features than any other Amazon seller tool.
Pros
Viral Launch Chrome Extension is light on the browser and integrates well with Amazon
Designed as a research and launch platform making it truly great for product launches
Overall user-experience is seamless. The site is easy to read and has a natural flow to it so you can stay focused on one step at a time.
Product Discovery tool is truly as good a product research tool as exists in the market
PPC management suite helps easily cut costs and reduce time
Conversion rate optimization tool allows for testing of product photo variations and versions of copy. 
AI is built well so you can trust the data Viral Launch displays
Serves 10 different Amazon Marketplaces
Customer support is responsive and very helpful
Cons
Steeper learning curve than other all-in-one seller tools
No keyword research tool provided in the Essentials subscription plan
Post launch tools are not as comprehensive as rivals like Helium 10 and Sellics
No ability to convert on PPC content
It is tough to say anything negative about Viral Launch.  The user-friendliness and extensive features of the tool have made it one of the highest-ranking services in the Amazon FBA space.
| | |
| --- | --- |
| Seller Tool Name | Viral Launch |
| Type | All-in-one seller tool |
| Company Location | Indianapolis, USA |
| CEO | Casey Gauss |
| Best For | Sellers who want help with product research + launches |
| Price | $58 and up depending on account size |
FBA Global Review Score: 8.2 out of 10